Gaming laptops have seen a transformation in recent years. When it comes to gaming laptops, there's been a trend to produce thin and light devices that you can utilize for gaming and everyday tasks. Strong Graphics cards and robust processors are packed into a compact design in these stylish laptops, making them a pleasure to use. If you want a laptop that looks good and performs well, go no further than Acer Predator Triton 300 SE. Below, we will provide a detailed Acer Predator Triton 300 SE review. So, don't go anywhere; we will discuss its features, positives, and negatives.
14-inch gaming laptop, the Acer Predator Triton 300 SE, has a convenient balance of mobility and efficiency. In terms of affordability and performance, the Acer Predator Triton 300 SE is one of the best portable gaming rigs on the market today. It's a decent mid-price gaming system with a low cost, thanks to its combination of an 11th Gen Intel Core i7 processor and an Nvidia GeForce RTX 3060 Ti GPU. Compared to other 15.6-inch gaming machines, its genuine compactness and excellent performance with a high refresh rate of 1080p gaming can't be defeated. For others, the smaller screen may be a problem.
Acer Predator Triton 300 SE Specs
| | |
| --- | --- |
| Processor | Intel Core i7-11375H 3.3 GHz |
| RAM | 16 GB DDR4 |
| Storage Drive | 512 GB SSD |
| Display | 14-inch (1920×1080) IPS with 144Hz refresh rate, 300 nits |
| Graphics Card | Nvidia GeForce RTX 3060 Ti 6GB GDDR6 VRAM |
| Networking | Bluetooth, 802.11ax (Wi-Fi 6) |
| Dimensions | 12.7 x 8.97 x 0.7 inches |
| Weight | 3.75 lbs |
[content-egg-block template=offers_logo]
Acer Predator Triton 300 SE Review: Sleek Design
By looking at it, you can tell this notebook is small and sleek. In addition to functionality, the slick, polished surface on the lid and all-silver design provide some glam. The logo isn't at the center of attention, but it's tucked away in a lovely badge on the upper right side. It's a compact, lightweight, and ready-to-go unit.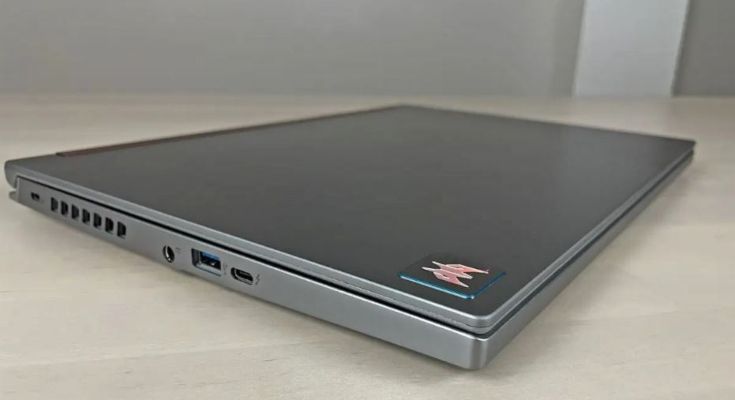 Here, there are no glaring red accents. There is no doubt that this is a gaming laptop based on the large fans on the sides and rear. Even though the Triton 300 SE weighs just 3.8 pounds and only measures 0.7 inches thick, you'll realize it's there because of the large 14-inch screen.
While this laptop appears less noticeable than particular other laptops, it is nonetheless a gaming device. Acer's PredatorSense software allows users to customize the RGB backlighting of the keyboard, although the lighting is divided into three zones.
The improved AeroBlade fans of the Triton 300 SE's dual-fan cooling system are present within the frame. By utilizing specialized heat pipes for the GPU and CPU, Acer claims its Vortex Flow technology can "produce an aerodynamic flow," while cleverly positioned fans keep the RAM, PSU, and other "essential parts" cool. The Triton 300 SE's heat dissipation system promises better performance.
Acer Predator Triton 300 SE Display
Having a 14 inches FHD (1920×1080) screen and a 144Hz refresh rate that is quick but not extraordinary, the Acer Predator Triton 300 SE is a capable gaming laptop. Acer's decision to reduce the refresh rate of the Triton 300 SE is understandable given the device's affordable price and the cutting-edge H35 Processor. If you want a gaming system with super-duper 240Hz-300Hz refresh rates, you'll then have to increase your price significantly or settle for a less expensive device with an older-generation CPU.
In terms of viewing angles, the IPS display is generally reasonable. If you want to play exclusively inside, the display's peak brightness rating of 300 nits is adequate. Even though the top and sides of the display panel have thin bezels that are especially pleasing to the eye, the lower bezel is clunky and distracting. In addition to Triton's three microphones, a 720p webcam is also there in the top bezel. As expected from a gaming laptop, the screen lacks touch sensitivity.
Decent Keyboard and the Proper Ports
There is nothing unusual about the keyboard or touchpad, but they are of excellent quality. However, the keys are sensitive and offer configurable illumination (in three zones rather than per key) with a wide range of colors and patterns. The scrolling is silky smooth, and it has a superior feel. The touchpad is above standard in precision and responsiveness. A fingerprint scanner is available in the device's upper left corner for convenience and security.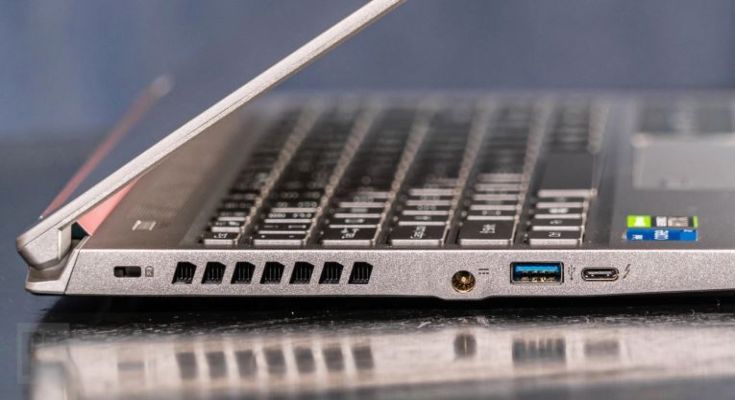 To store the collection of your favorite games on external drives and attach gaming mice or devices, the Acer Predator Triton 300 SE has an astonishing assortment of ports.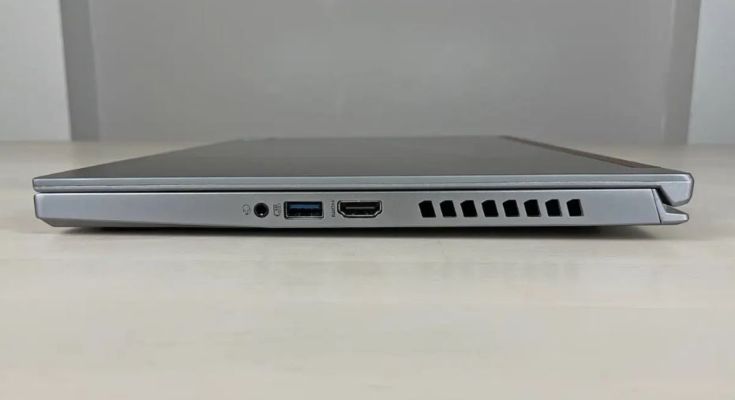 A USB 3.1 Type-A port, a Thunderbolt 4-compatible USB Type-C port, and a charging port are all located on the device's left side. There is another USB-A 3.1 connector on the right and an HDMI port for connecting an external display. While it may lack ports, it should suffice for most applications without being constrained. Wi-Fi 6, Killer networking, Bluetooth, and a 720p camera on the bezel round out the system's features.
Speakers
DTS:X Ultra, an object-based sound system competing with Dolby Atmos, enhances the fine dual speakers of the Acer Predator Triton 300 SE. The pitch of a laptop can be successfully opened up with object-based audio, although this does not usually increase overall sound quality.
The Triton 300 SE's speakers sounded thin and lacked bass, typical for laptop speakers. To get the best sound from the Triton, you'll need separate speakers or a good pair of headphones.
Performance
Nvidia's RTX 3060 in the Acer Predator Triton 300 SE may be the weakest of Nvidia's new 30-series GPUs, but still, it delivers a significant performance punch. An Intel 11th Gen Core processor coupled with the RTX 3060 GPU should result in considerable performance gains over its counterpart. So, how does the Triton 300 SE fare compared to more expensive, heavier, and more powerful gaming laptops? Let's have a look at it.
Rise of the Tomb Raider Game Test
When it comes to actual gameplay, the second Tomb Raider relaunched game can offer us a sense of how well this Acer laptop performs, even if it's a few years old.
Rise of the Tomb Raider runs at a blistering 60 frames per second on the Triton, leaving it only behind the other RTX 3080-powered machines. With that said, the Gateway RTX 2060 and Triton are separated by a considerable distance. The three GTX 1650-powered laptops on the list can't quite reach 60 fps, proving that dialing down to the GTX 16 series is a trade-off.
Battery Life
There are a growing number of small and light gaming laptops that tout excellent battery life as a key selling point. Acer's Triton 300 SE is no exception. Even while battery life can be improved, I've found that pre-installed gadgets like PredatorSense and Norton Antivirus are notoriously draining resources.
With the screen brightness at 50%, I streamed Twitch video in 1080p for around 5 hours before I began having battery recharge alerts. Longer battery life is likely to arise from a more varied device use that includes activities other than video streaming. From my experience regarding Zephyrus G14, some people have pulled out detailed tips on how to get the most out of this machine's battery life. I don't think 10 hours is realistic, but 7-8 hours is.
Portable, powerful, and reasonably priced
The Acer Predator Triton 300 SE has a lot going for it and nothing to complain about. The design is elegant, beautiful, and compact without sacrificing portability or battery life. Compared to other major, more costly gaming laptops, the system performance is only slightly behind, and even then, it can hold its own in some circumstances. RTX 3060 graphics in the Acer lift the standard for 14-inch PCs, increasing the viability of gaming on the go.
Only the lack of a 1TB SSD for some of today's most popular games is a little nitpick, but you can get around it by only downloading and installing your favorite titles and avoiding a few of the more huge "live" games that require a lot of storage space. Asus ROG Zephyrus G14 established the standard for 14-inch laptops the year before, but the Triton 300 SE has already surpassed it for $50 less than the Zephyrus G14. Acer's upgraded graphics card and better battery life give it the advantage, despite the G14's nice appearance and faster AMD CPU.