Creating a 3D character is a fascinating process that combines artistry and technology.
But how long does it take to make a 3D character? This article aims to answer this question in detail.
The Basics of 3D Character Creation
Creating a 3D character involves several steps, including concept art creation, modeling, texturing, rigging, and animation. The time it takes can vary significantly based on the complexity of the character and the skills of the artist.
Since the process can be very long and monotonous, often companies use outsourced character creation services to design a 3D character for a game.
Look at the example of Character Concept Art for the game Pirate's Treasure, made by outsourcing game art studio RetroStyle Games.
Factors Influencing Time
Complexity of the Character

: The detail and design of the character play a significant role in the time taken.





A basic character with minimal details might be completed in a few days. On the other hand, a detailed character with complex clothing, accessories, and features can take a few months to complete.

Artist's Experience

: The expertise of the artist is essential.





An artist who has been designing game characters for years will likely be quicker and more efficient than someone just starting out.





Example

: Creating a basic humanoid character in Blender might take a week for an experienced artist but could take a month for a beginner.
Tools and Software

: The tools used can also impact the time. Advanced software might offer features that make the design process smoother, while basic tools might lack these time-saving features.
If you are planning to create a 3D character for a game, you need to consider the complexity of the character, the experience of the artist, and the tools available. These factors will give you a better idea of the time needed to realize the project.
Remember, while it might be tempting to rush the process, quality takes time, especially when it comes to game design.
Tips for Speeding Up the Process
Use Pre-made Models

:  Instead of building a character from scratch, consider using a base model. This can serve as a foundation, which you can then modify to fit your specific needs. You can find such free 3D models on

free3d, TurboSquid, and Sketchfab.
Think of it like using a basic cookie dough recipe. You can add your own flavors or ingredients to make it unique, but you don't have to mix the basic ingredients every time.
Efficient Use of Tools

: Mastering shortcuts and features of your software can greatly reduce time.
Just like in any craft, knowing how to efficiently use your tools can make the job quicker. If you're using software like Blender or Maya, spend some time learning the shortcuts and tools that can help you design characters more swiftly.
The Step-by-Step Breakdown
1.) Concept Art (1-2 weeks): This is the planning phase.
Before you start looking into the world of 3D, you need to set up a plan. This step involves creating sketches and character designs on paper or digitally.
Think of it like a blueprint for a house. You determine the character's appearance, clothing, and even personality traits.
For example, you can check examples of sketches from RetroStyle Games, a game art outsourcing studio.
The work was made for the game Murder Manor – Adventure Escape Series
2.) Modeling (2-6 weeks): Once the design is developed, it's time to create the character in 3D. This is similar to sculpting, only digitally. You shape the character, ensuring it looks good from all sides.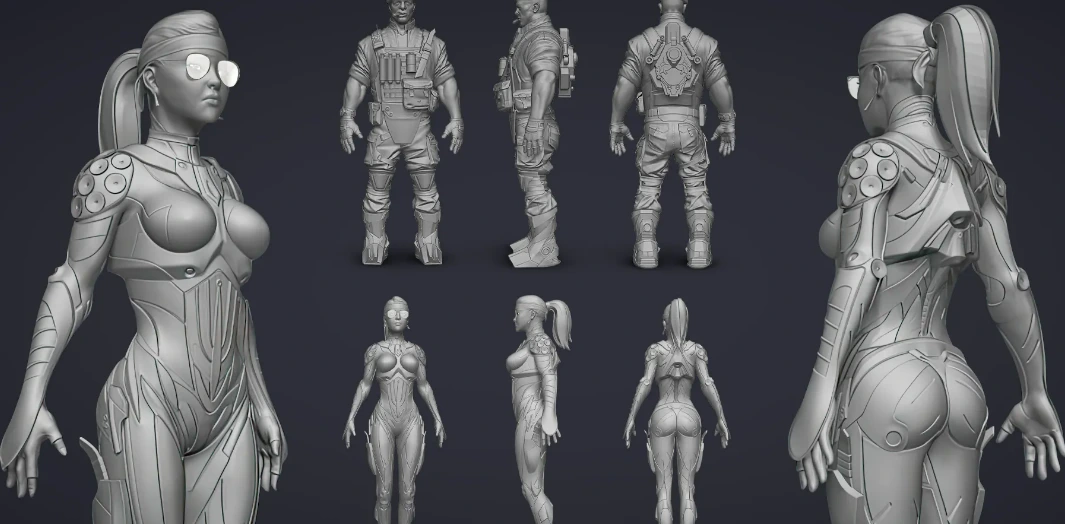 3.) Texturing (2-4 weeks): Now, you'll add color and details. This is like painting your sculpted character, giving it a realistic or stylized look based on your game's theme.

Look at the video game character sheet for the superhero game.
4.) Rigging (1-3 weeks): This step prepares your character for movement. Imagine adding strings to a puppet; rigging is similar, but done digitally.
5.)Animation (3-8 weeks): Finally, you bring your character to life. This is where you decide how your character moves, talks, and interacts.
For example, for the warrior, you might animate a running sequence, a few different attack moves, and some idle animations for when the character is static.
Challenges for New Learners
New learners might find the process time-consuming due to unfamiliarity with software and lack of experience. They may struggle with:
Understanding 3D Space
Learning Software Tools
Artistic Challenges
Why you should outsource 3D game character creation
Game development is a busy field. To save time, many companies use outside studios to help create 3D characters. These studios have skilled artists and the right tools to make quality characters quickly.
For example, if a company needs characters for a space game but is short on time or doesn't have the right skills, they might hire an outsourcing game character studio. This helps them get the characters they want while letting their own team work on other parts of the game.
Example: A company wants alien characters for a game. Instead of taking a long time to make them, they work with an outside studio that knows how to design aliens. This way, the company can release its game on time without losing quality.
To take a real-life case, character creation by outsourcing company RetroStyle Games helped the developer of the game "Solitaire Pet Haven" speed up the game's release process by several months.
In short, using outside studios can help game companies get the characters they need faster and with expert help.
Creating a 3D character is a rewarding journey that varies in duration. It can range from a few weeks for a simple character to several months for a more complex one. The key is patience, practice, and continual learning.